The executive management team of Qrf consists of a CEO and a CFO. The CEO is primarily responsible for general management and coordination with decision-making bodies, as well as general strategy of the company. The CFO is responsible for the financial strategy and organization, and also acts as Compliance and Risk Officer. 
Together, the CEO and the CFO form Qrf's effective management.
William Vanmoerkerke (1983) earned a Master's Degree in Applied Economics from the University of Ghent, a Master's Degree in Marketing Management from the Vlerick Management School, and a Master in Business Administration from New York University.
He started his career at eBay as a Segment Manager. In 2008, he joined Roland Berger Strategy Consultants as a consultant, and then in 2012 he joined The Boston Consulting Group. In 2013 he continued his career as Senior Director of Strategy & Business Development at Elsevier Inc.
Since 2014, together with Olivia and Mark Vanmoerkerke, he represents the interests of the family in various companies and participations.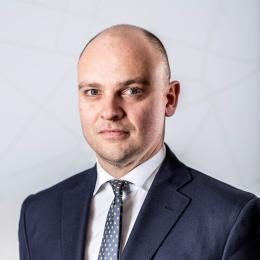 Tom Schockaert (1984) obtained his Master of Commercial Sciences and Business Administration at the Hogeschool en Universiteit Gent. He then completed a Postgraduate in Finance with greatest distinction at the Catholic University of Leuven.
For six years he held various positions within the Elia Group, where he was active as Managing Director of the German Eurogrid GmbH branch and as Head of Group Controlling was responsible for Group Controlling, M&A and Investor Relations within the Elia Group itself. Over the past years he was active as Business Unit Controller (Chemicals) at Katoen natie, where he led a team of 14 people.